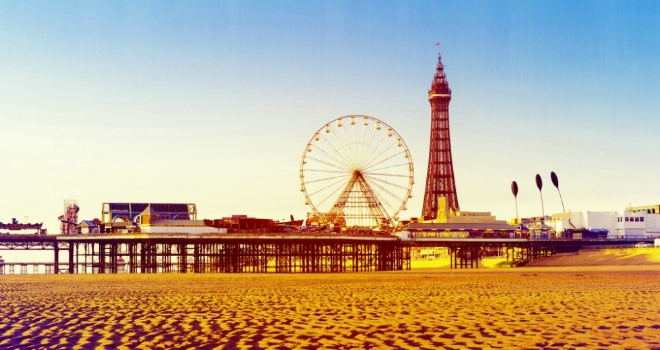 Famous for its iconic tower, sticks of rock and miles of golden beaches, the family favourite seaside resort also boasts some of the lowest house prices in the UK and is currently one of the UK's hottest property markets.
Housesimple looked at the latest completed property sales data recorded every month by the Land Registry, which revealed that the number of houses sold in Blackpool increased by 17% between Q2 and Q1 2018, more than any other major town or city in the UK. Lancaster (16.6%) and Durham (15.4%) also saw the number of property sales grow more than 15% over the same period – the only major UK cities to see this level of growth.
Analysis of more than 60 UK major towns and cities revealed that completed sales across major towns in the north of England were up on average 3% in Q2 vs Q1 2018, while completed sales fell on average 4.3% over the same period in southern towns.
The North-South divide has well and truly been turned on its head after a decade of booming house price growth and sales in the south of England.
Seven out of 10 towns registering the biggest growth in property sales in Q2 vs Q1 2018 were in the north. Of the ten towns that saw the biggest drop in sales over the same period, ninewere in the south of England.
The following table shows the ten UK towns and cities which saw the biggest increase in the number of properties sold in Q2 2018 vs Q1 2018:
| | | |
| --- | --- | --- |
| Town/City | Region | % increase in properties sold Q2 VS Q1 2018 |
| Blackpool | North | 17.0% |
| Lancaster | North | 16.6% |
| Durham | North | 15.4% |
| Swindon | South | 11.8% |
| Hartlepool | North | 8.9% |
| Leicester | Midlands | 8.8% |
| Middlesbrough | North | 7.4% |
| Warrington | North | 7.2% |
| Gloucester | South | 7.2% |
| Newcastle | North | 7.2% |
Sam Mitchell, CEO of online estate agents Housesimple.com, had this to say: "Land Registry figures show clearly that the north-south property divide has been turned on its head. Properties, particularly family homes, are still affordable in the north of England and with thriving local economies attracting workers to the region, stock is being snapped up in major cities such as Liverpool, Manchester and Leeds."