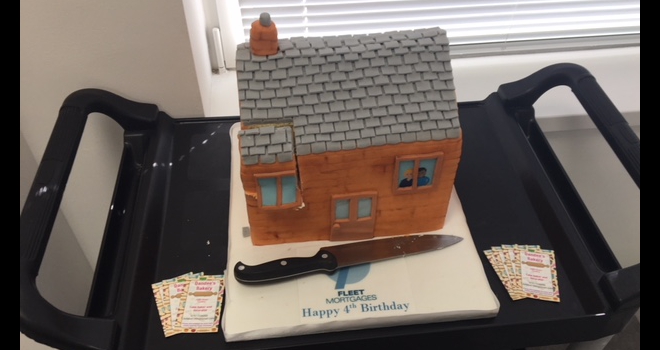 Buy-to-let and specialist lender, Fleet Mortgages is celebrating its 4th birthday this week having launched on the 17th of September 2014.
During that period, the lender has grown significantly in terms of lending activity, loan portfolio and the employee headcount of the business.
At the time of writing, Fleet Mortgages has a loan portfolio of £1.2 billion, and after eight months of 2018 has already surpassed 2017's origination volume for the entire year, plus it still has no accounts in arrears. The business has grown from 48 employees at the end of 2015, to 97 today.
During the four years of its existence, Fleet Mortgages has hit a number of landmarks, from issuing its first mortgage on the 29th January 2015, through to its first securitisation in November 2016.
Since then it has moved into new premises, has completed two further securitisations and secured a further funding line in order to develop its buy-to-let product proposition.
Fleet Mortgages continues to focus on the buy-to-let market, offering product options across three core sectors – standard, limited company and HMO. It is specifically focused on providing mortgages to portfolio and professional landlords and recently announced that two-thirds of its purchase mortgage applications were now via limited companies.
For all standard and limited company products – except those offered at pay rate – Fleet Mortgages operates an ICR of 125% at 5%, regardless of tax rate.
Bob Young, Chief Executive Officer of Fleet Mortgages, commented: "Reaching our fourth birthday may not appear to be a 'milestone' moment but for all of us involved in Fleet Mortgages – especially those that have been here from that first day – it undoubtedly is.
We have come a considerable distance in four short years and we have built an excellent lender that we believe has a strong reputation for quality not just amongst the intermediary market but also within the capital markets.
The difference – as it so often is – being the quality of the people who work for Fleet and the work they are willing to put in to ensure we deliver the best service we possibly can to advisers and their clients.
We have reached a number of milestones during the past four years including the growth in our overall loan portfolio, our three securitisations, and the fact we continue to have no arrears on our accounts – which is a sign of the quality of our mortgages and our focus on ensuring that only those that can afford to pay, receive a Fleet mortgage.
Our journey has a long way yet to run but we will continue to strive to be the best we can be, and do all we can to support advisers and their clients active in the buy-to-let market."