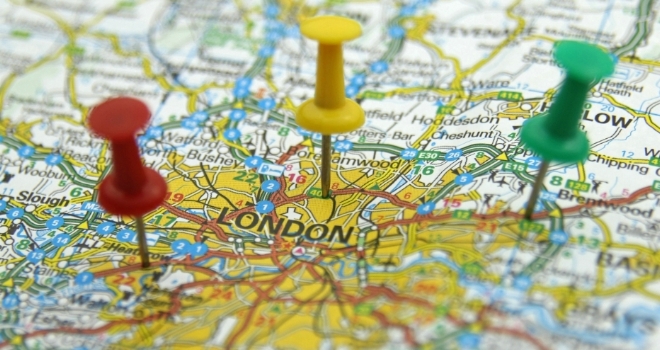 As the cost of homeownership spirals away from the majority of tenants in the capital, many are left with two choices, staying put or upsizing.
However, even this provides its own financial hurdle and one that is becoming harder to overcome.
New research by online lettings platform, Urban.co.uk, looks at the cost of climbing the London rental ladder from a studio flat to a four-bed property.
London as a Whole
On average across London, the jump to increase your rental potential and upgrade your property size is 42% for each room added.
From a studio to a one-bedroom and a one-bedroom to a two-bedroom requires a 35% and 37% increase respectively. The largest jump is from a two-bed to a three-bed where the weekly rent leaps from £553 to £906 – an increase of 53%. To make the final leap from a three-bed to a four-bed requires a further 46% increase in weekly rent.
The cost to jump straight from a studio flat to a four-bed property is a staggering 296% increase.
Biggest Average Jump in London
However, in some areas of London, the obstacle of climbing the rental ladder is far greater. The largest average leap across the capital is Fitzrovia, W1B, where each additional room requires an average increase in rent of 183%! Oxford Circus, also in W1B, isn't far behind with an average increase of 182% for each additional room.
Croydon, CR0 (160%), Westminster, SW1E (148%) and Bank, EC3 (140%) are also among the highest average increases in rent when climbing the rental ladder.
Biggest Leap – Studio to a One-Bed
Highgate is also home to the largest jump between a studio and a one-bed with a 215% increase, followed by Soho, W1, where the rent increases by 179% between the two.
Biggest Leap – One-Bed to a Two-Bed
Fitzrovia, W1B offers the highest step between a one and two-bed property with a 194% increase in weekly rent from £455 to £1337! Oxford Circus, Belgravia, Blackfriars and Bond Street are also some of the largest jumps between this property size.
Biggest Leap – Two-Bed to a Three-Bed
For those looking to move to a property with a third bedroom, Westminster offers the biggest obstacle, with an increase of 456% from a two-bed to a weekly rent of £4,596 for a three-bed. Croydon (297%) is the second largest with Green Park, Piccadilly Circus and Covent Garden also amongst the highest.
Biggest Leap – Three-bed to a Four-Bed
For that final step for those renting in the capital and eyeing a four-bed property, the place to avoid is Bank, EC3. The jump between property sizes requires a huge 465% increase in weekly rent, to a massive £13,846. Again, Oxford Circus, Fitzrovia and Hampstead also rank us some of the biggest leaps.
Biggest Leap – Studio to a Four-Bed
Although very unlikely, for those looking to expand from a studio straight to a four-bed, Highgate, N6 is home to London's largest jump. While a studio flat costs on average £101 a week to rent, there's a 1090% increase to the £1,202 a week for a four-bed property.
Adam Male, Director of Lettings at Urban.co.uk, commented: "A lack of affordable housing is not only inflating the cost of homeownership in the capital, it's also pushing rental prices ever higher as consistent and increasing levels of demand exceed the supply of homes available. A consequence of this is that not only are many left stuck in the rental sector, but the additional hurdles of upsizing within it are becoming increasingly expensive.
With an average increase of 42% per room, it is not as easy as simply making the move as this additional cost has to be considered and compiled before doing so. When you couple this with extortionate fees charged by high-street letting agents, it's no wonder many are forsaking the capital for more affordable rental options in the surrounding areas."